Production information
YES-BM728 7" x 28" Ultra Precision Milling Machine
This bench type powerful milling machine outperforms all small milling machines on the market. This is a high-quality milling machine created with strict standards, 100% designed and manufactured in Taiwan.

The precision spindle designed with advanced ball bearing is selected to ensure accurate operation and DC brushless motor with frequency conversion speed regulation, and the machine runs smoothly and quietly.

High-precision grinding, professional scraping technology, stable and tight operation.Exquisite cabinet-style stand design, neat appearance, perfect storage.High appearance, high rigidity, high quality and high precision.Not only has a larger travel, but also can carry out heavy cutting.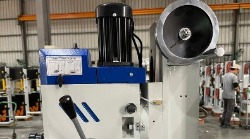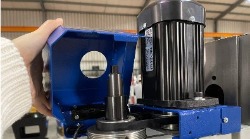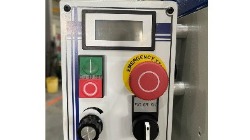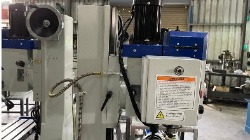 Milling Machine Identification
Milling Machine Dimensions


Milling Machine Features
It is a machine which is used to remove metals from the work piece with the help of a revolving cutter called milling cutter. It is used to machined the flat, rough and irregular surfaces and this is done by feeding the work piece against a rotating milling cutter.
Basically the milling machines are divided into two types first is horizontal milling machine and second one is vertical milling machine. They are further classified as knee-type, ram-type, manufacturing or bed type and planer-type milling machine.
Increase 3-axis screw bearing structure, and the original hand wheel is without bearing support.

Increase the distance of X-axis saddle and enhance the stability.

Y axis travel increases from 177 mm to about 260 mm (add 83 mm)

Increase the distance of the head screws, which increases the stability.

Increase the gear set to adjust the angle slightly, which is same as the turret milling machine.

The vertical travel of quill increases from 5mm to 75 mm. (add 25 mm)

Z axis travel increases from 330 mm to 400 mm. (add 70 mm)

Spindle speeds aims to about 5000 RPM, and 7 class bearings will be used.

Increase the space of X-axis saddle screw, which is easy to change the ball screw.

3-axis is changed to manual pressure lubricator, which can be an optional or standard accessory.

Enlarge the column and thickness, which increases the stability.

Enlarge the splash shield of Y axis screw, which increases the dust-proof capability.

Widen the dove tail groove, which increases the stability.

It's estimated that the N.W and G.W is 150 and 180KGS.
Milling Machine optional accessories
There are multipurpose optional accessories for milling machine, which will increase the working efficiency and add the possibilities for more cutting methods.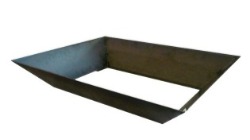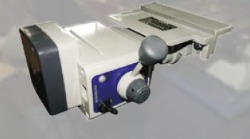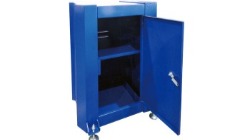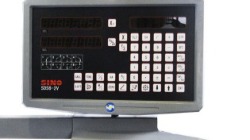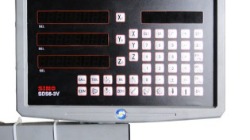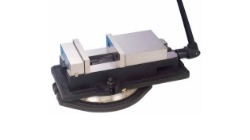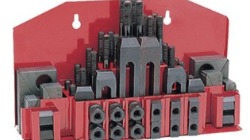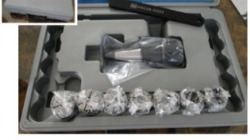 • Ultra High Quality Milling Machine, Made to Exacting Standards. Nothing Else Compares To The Quality Level Of This Mill. If You Want The Best, This Is It. This machine is 100% Made in Taiwan. It Costs More, But You Get More. Much More. The Highest Level of Quality and Precision in a Bench Top Mill Available Anywhere.
• Super Precise Way Grinding Matched with Highly Skilled Precision Fitting and Scraping of Matching Way Surfaces and Gibs Make This Machine A Step Above Anything Else On The Market
• Larger Travels Than Comparable Models, Especially in the Y and Z Axis
• More Weight, Approx. 370 Pounds To Work With. Easy Enough To Move, Heavy Enough To Take Serious Cuts
• Ultra Precision Ground Spindle, with Triple Bearing Support
• Spindle is Supported by Angular Contact Bearings, Which Run Precise and Stay Cool at High Speeds
• Quill DRO Included Standard (This is for the spindle up/down movement)
• Worm Drive Gear for Easier Tramming of the Head
• Enlarged Z Axis Column for Unmatched Rigidity
左右尚有資訊
| | |
| --- | --- |
| Model No. | YES-BM728 |
| Spindle Taper | R8 |
| Spindle Max. Travel | 3'' (75mm) |
| Spindle Feeding | manual |
| Spindle Speeds | 500-5,000 RPM |
| Distance, Spindle To Table Surface (Z) | 16'' (400 mm) |
| Size Of Working Table | 27-1/2'' x 7-1/8'' |
| T-Slots Size (Number) | 12mm |
| Longitudinal Table Travel (X) | 19'' (485 mm) |
| Cross Table Travel (Y) | 10'' (250 mm) |
| Vertical Travel Of Table (Z) | 16'' (400 mm) |
| Motor | 1HP |
| Switch | Magnetic Switch |
| N.W/G.W. (Approx.) | 150/180 KGS |
• Ultra High Quality Milling Machine, Made to Exacting Standards. Nothing Else Compares To The Quality Level Of This Mill. If You Want The Best, This Is It. This machine is 100% Made in Taiwan. It Costs More, But You Get More. Much More. The Highest Level of Quality and Precision in a Bench Top Mill Available Anywhere.
• Super Precise Way Grinding Matched with Highly Skilled Precision Fitting and Scraping of Matching Way Surfaces and Gibs Make This Machine A Step Above Anything Else On The Market
• Larger Travels Than Comparable Models, Especially in the Y and Z Axis
• More Weight, Approx. 370 Pounds To Work With. Easy Enough To Move, Heavy Enough To Take Serious Cuts
• Ultra Precision Ground Spindle, with Triple Bearing Support
• Spindle is Supported by Angular Contact Bearings, Which Run Precise and Stay Cool at High Speeds
• Quill DRO Included Standard (This is for the spindle up/down movement)
• Worm Drive Gear for Easier Tramming of the Head
• Enlarged Z Axis Column for Unmatched Rigidity
左右尚有資訊
| | |
| --- | --- |
| Model No. | YES-BM728 |
| Spindle Taper | R8 |
| Spindle Max. Travel | 3'' (75mm) |
| Spindle Feeding | manual |
| Spindle Speeds | 500-5,000 RPM |
| Distance, Spindle To Table Surface (Z) | 16'' (400 mm) |
| Size Of Working Table | 27-1/2'' x 7-1/8'' |
| T-Slots Size (Number) | 12mm |
| Longitudinal Table Travel (X) | 19'' (485 mm) |
| Cross Table Travel (Y) | 10'' (250 mm) |
| Vertical Travel Of Table (Z) | 16'' (400 mm) |
| Motor | 1HP |
| Switch | Magnetic Switch |
| N.W/G.W. (Approx.) | 150/180 KGS |